O'Reilly Workplace Law Is Growing!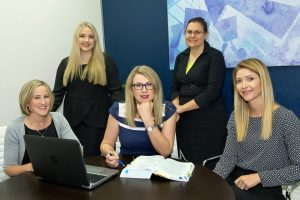 Over the past year we have been working hard on expanding our boutique employment law practice and increasing our capacity to assist businesses with and a broader range of and more complex workplace relations services. Our practice Director Denise O'Reilly has now been joined by Senior Lawyers Michael Cole (ex-Herbert Smith Freehills) and Jessica Haddley (ex-Hopgood Ganim). They are supported by Kasey White, Practice Manager.
Our Areas Of Practice
O'Reilly Workplace Law continues to specialise in all aspects of employment, workplace relations, discrimination and workplace health and safety law. Our team of ex-top and mid-tier firm lawyers has accrued over 25 years' experience in the area, and is committed to remaining up-to-date with changes to legislation and providing clients with best practice solutions. We provide strategic workplace solutions for ambitious, growing employers, and bring top tier expertise to our clients without the top tier price tag.
Our New Team Members
Senior Lawyer, Jessica Haddley joined O'Reilly Workplace Law in 2016 and has a strong background in workplace relations from her time with HopgoodGanim. This is backed up with lived experience as a business manager working for an architecture and construction firm before starting with O'Reilly Workplace Law.
This diverse experience gives her a unique insight not often found with other workplace lawyers. Jessica is a member of Industrial Relations Society of Queensland (IRSQ). Jessica is admitted as a lawyer in Queensland and the High Court of Australia, following graduating from Queensland University of Technology as the University Medallist in law.
In 2016, Senior Lawyer, Michael Cole also joined our team bringing extensive experience advising and representing employers in all areas of employment, industrial relations, work health and safety (WHS), and workers' compensation law. Prior to joining O'Reilly Workplace Law, Michael worked in Australia's leading employment law firm, Herbert Smith Freehills.
During his time there, he acted for a significant number of major corporations in the public services, financial services, energy and resources, transport, manufacturing, waste management, infrastructure and construction industries. Michael has expertise unique in the local market in advising and representing employers in relation to their WHS obligations. This has included defending major employers in WHS criminal prosecutions. Michael is admitted as a lawyer in New South Wales, Queensland and the High Court of Australia.
Our Focus

 We work with our clients to proactively manage our clients' employment hassles and offer our clients up-to-date, commercial advice to help future-proof their organisation against unwanted issues down the track.
We have vast experience in providing the best outcomes for our clients in a wide range of employment law matters including:
Industrial relations advice and support for human resources professionals
Advice about awards and minimum entitlements
Advice about termination of employment, performance management and misconduct investigations
Contracts of employment
Employment policies and procedures
Enterprise agreements and individual flexibility agreements
Independent contractor agreements
Disciplinary action
Defending unfair dismissal, general protections, discrimination, bullying, harassment and other related legal claims
Employee bonus and incentive schemes
Privacy and workplace surveillance issues
Post employment restraints
Protecting intellectual property and confidential information
WHS advice, investigations and defence of prosecutions,
Strategic advice on WHS laws in a wide variety of contexts, including transactions and infrastructure projects
Advice about union right of entry and related rights
Career Opportunities
We are still expanding! We are searching for our next lawyer to join our team to further increasing our capacity to serve our clients' employment law needs. If you would like to apply, please contact Kasey White (kasey@oreillyworkplacelaw.com.au).